Born from one family's passion for Kenya and its wilderness, the Sheldrick Wildlife Trust was established more than 40 years ago and is best known for its Orphans' Project, the first and most successful elephant orphan rescue and rehabilitation program in the world. The Sheldrick Trust is a pioneering conservation organisation, dedicated to the protection of wildlife and the preservation of habitats in East Africa.
The orphans projects rescues baby elephants that were orphaned due do human-wildlife conflict or natural causes. They then get rehabilitated and nurtured until they can go back to the wild. more than 250 orphans returned to the wild successfully and even had their own babies - 38 so far!
This January, Elephant Hug will donate 20% of our profits to the Sheldrick Wildlife Trust. You can learn more and donate yourself at: 
https://www.sheldrickwildlifetrust.org/
Happy new year!
Elephant Hug team
The Elephant Crisis Fund (ECF) is focused on ending the killing of elephant for ivory. In spite of great efforts by different organizations and governments, tens of thousands of elephants are killed every year for their ivory. The ECF is operating in three avenues: 
Stop the Killing of Elephants
Stop the Trafficking of Ivory
Stop Ivory Demand
The fund is a joint initiative by two of the most respectable organizations in this field, Save the Elephants and the Wildlife Conservation Network. It is operating all over Africa and supporting a wide range of projects, 309 so far!
In addition to the amazing work they are doing, you should also know that 100% of donations go to the projects themselves, and none to administrative or other costs.
You can see here an overview of existing projects in anti-poaching: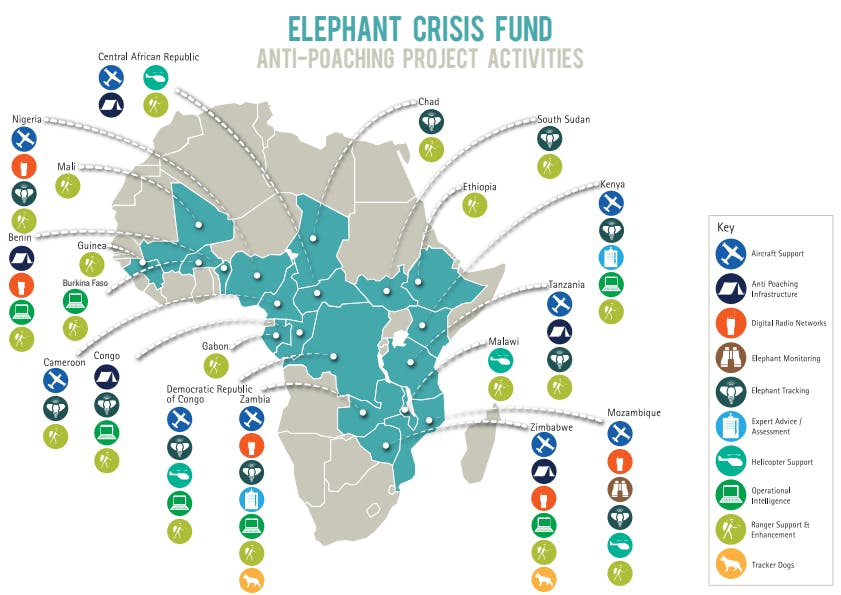 This December, 5% of Elephant Hug's sales will be donated to the Elephant Crisis Fund. To learn more and to donate please go to their website at: www.elephantcrisisfund.org
You can also watch a short video about the ECF, narrated by Leonardo Dicaprio: https://vimeo.com/232302826
Happy Holidays
The Elephant Hug team
Kaavan is an Asian Elephant, who since 1985 lives alone in a Pakistani zoo, and was called 
'the loneliest elephant in the world'. The loneliness and deplorable conditions at the zoo has caused him severe psychological distress, and years of confinement and malnutrition resulted in obesity and poor health. 
After years of efforts by "Free the Wild" and "Four Paws" organizations, Kaavan's release was finally agreed, and a new home was recently found for him at the Cambodia Wildlife Sanctuary. He is currently being treated by veterinarians to improve his health and train him for the plane journey to Cambodia.
This month we are donating 5% of all Elephant Hug sales to "Free the Wild" for building Kaavan's new home in Cambodia.
To donate directly:
https://www.freethewild.org/donate
For more information: 
https://www.theguardian.com/environment/2020/sep/05/worlds-loneliest-elephant-allowed-to-leave-zoo-for-better-life
https://www.freethewild.org/blog